The Kyles of Bute, sometimes knows as Argyll's Secret Coast, is the passage between the charming Scottish villages of Tighnabruaich and Kames on the the mainland of Argyll, and the north end of the Isle of Bute in the Firth of Clyde. Dubbed "Secret Coast", because unless you are specifically heading this way, you are unlikely to run into this remarkably beautiful part of the world. At their widest less than two miles across, the Kyles narrow to just a few hundred yards at Rubha Ban (pronounced roo-baan). Tighnabruaich is a Gaelic name meaning "the house on the hill". Aptly named, as the steep hills rising above the shoreline have many "houses on the hill". Whether you are approaching by road, driving along the narrow and twisty road chiseled and blasted out of the hillside, or sailing up the Kyle, you are met with spectacular views. There are several lay-bys with viewpoints along the road, and on a clear day there are great views of Bute, Arran and the Ayrshire coast. An article in the Scotsman sums it up...
"THE 10 miles drive to Tighnabruaich from Glendaruel, on the Cowal Peninsula in Argyll is not just a passage from one sublime spot to another but is a destination in itself. It helps that to get to it by road from Glasgow, you take in Loch Lomond, Loch Fyne and the Rest and Be Thankful Pass, all beautiful in their own right. But the gob smacking highlight is the A8003, running down the western Kyle of Bute." read more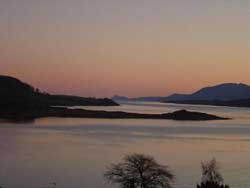 Approximately 80 miles from Glasgow by road, Tighnabruaich and the neighboring village of Kames offer a tranquil getaway for sailors, fishermen and folks who just want to enjoy the view. There are several small hotels with restaurants, B&Bs, several pubs, several shops, a Post Office, an RBS bank, petrol station, a couple of cafes, a mechanic and towing service, a bustling boatyard, a primary school, a hilly 9 hole golf course with sheep wandering across it, and a fish farm or two.

Where to stay?

The village of Tighnabruaich and Kames offer a number of hotels and B&B acomodations. The latest to open is the Wellpark Hotel, near Tighnabruaich Pier. Other hotels including the Royal An Lochan Hotel, Kames Hotel and Tighnabruaich Hotel, along with various B&Bs and other accomodations in the area are listed on this page.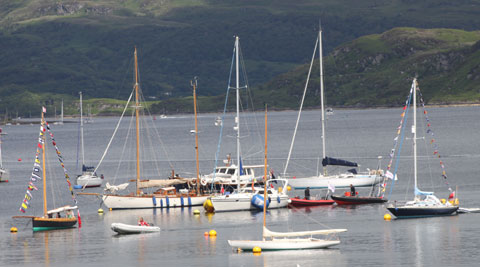 Sailing The Kyles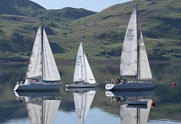 The Kyles of Bute are synonymous with sailing in Scotland. Tighnabruiach and Kames are popular weekend crusing destinations, and as stop overs on the way north to the West Highlands via the Crinan Canal. Sailors have many sheltered anchorages to choose from, both on the Bute side and along the mainland. Among my favorites is Caladh Harbor at the top of the Narrows, where you can nestle in a tranquil spot behind a small island. Closer to civilization, there are free moorings and boat ramps at Tighnabruaich village, and at the Royal Hotel by the now dismantled Auchenlochan Pier, where the petrol station is located. You will also find moorings by Kames Pier, just below the Kames Hotel. The Kyles of Bute Sailing Club (KoBSC) is a small but active sailing club, organizing racing and childrens activities. And Tignabruaich Sailing School (now located at Carry Point, a few south of Kames village) offers an outstanding environment where you can learn dinghy sailing and wind surfing. My first experience of sailing was here, learning in such craft as the Loch Long, Wayfarer, Enterprise and GP14. Today's fleet is much more modern, though the Wayfarer still has a place, 30+ years on!
Portavadie Marina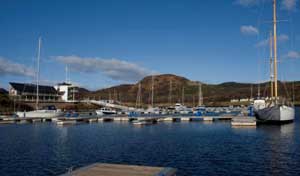 In 2010 Portavadie Marina opened, giving sailors a fabulous new option. Over the hill from Tighnabruaich on Loch Fyne, across the loch from Tarbert. Built on the site of a 1970s oil-rig construction yard which never opened, the giant "hole in the ground" built with a £14 million government subsidy, has finally been turned into something useful! The "ghost-village" at Pollphail by Portavadie, which was to have housed the oil rig workers is finally to demolished, with plans for development by the owners of Portavadie Marina.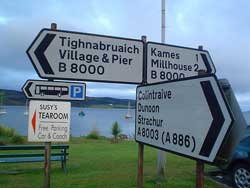 Photo courtesy Catherine McEwan


While road is the normal way to get to Tighnabruaich, the Waverley paddle steamer and other Clyde steamers stop at Tighnabruaich pier a few times a week. Tighnabruaich has been featured in Para Handy's Vital Spark. With a car ferry connection from Portavadie to Tarbert on the Mull of Kintyre, Tighnabruaich is no longer a "dead end". You can hop over on the ferry to the Mull of Kintyre, to Crinan, Inverary, Tarbert, Carradale and Campbeltown.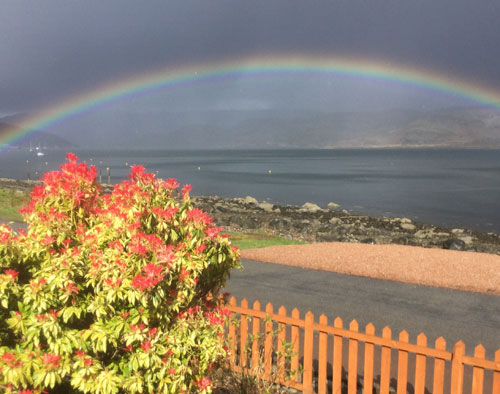 Rainbow over the Kyles, May 2016 Photo courtesy Jane Taylor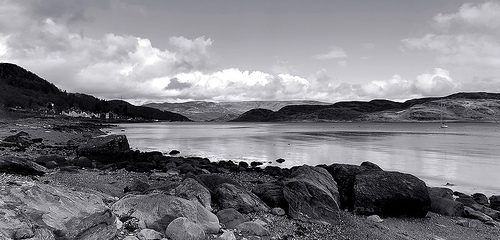 Photo courtesy Vicky Wilkinson on Flickr


Some photos from RNLI Lifeboat Day at Tighnabruaich, July 2015
My connection to the Kyles
I first came to Tighnabruaich in the early 70s with my parents to visit my step-father's partner who had retired there. Around that time they started blasting the "New Road" out of the hillside; before then, the only way to get to Tighnabruaich by road was the long way - down from Strachur, along Loch Fyne, across Ardlamont to Kames. It was virtually all single track with passing places. The sheep that wander or sleep in the middle of the road add additional excitement. And then there is the occasional deer ... Dad fell in love with the place, and a few years later acquired shorefront property near Auchenlochan Pier and built a bungalow. He named the house "Dumbiedykes" as he was a big fan of Sir Walter Scott's writing. An enthusiastic gardener, he worked hard to make his garden interesting. The original bungalow was torn down when it was 18 years old — defects during the original construction were discovered which caused extensive dampness and wood rot in the floor. After a lot of legal wrangling with the builder, a new bungalow, an almost exact replica, was constructed in 1992, and today commands wonderful views over to Bute and the hills above Colintraive. My sister and her husband now own the house and are lucky enough to live there full-time.
On a visit in June 2012 with my daughter, we enjoyed absolutely fabulous weather and had a wonderful holiday. We had a great dinner at the new Portavadie Marina restaurant, and also enjoyed a curry at the Wellpark Hotel's "Indian Night". It was great to be home.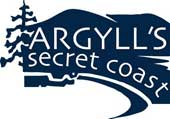 Iain Banks has said the road from Sandbank to Tighnabruaich "is one of best wee roads in Scotland", and Jeremy Clarkson, Top Gear presenter rates the route between Colintraive and Tighnabruaich as among his best driving experiences.

Kirsty McLuckie from the Scotsman described the views from the road as "gob smacking!
LOCAL NEWS
May 2016 - The ever resourceful and pioneering Kilfinan Community Forest [KCFC] at Tighnabruaich in Argyll's south Cowal, has got the go-ahead to build a low carbon classroom, after being awarded a grant from the Scottish Government's Climate Challenge Fund [CCF] more.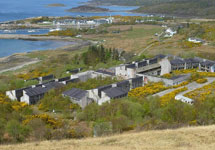 Portavadie Distillery Proposal

March 2016 - Portavadie Distillery Ltd want to demolish the houses which have fallen badly into disrepair and develop the area with a distillery, warehouse and visitor centre.In a report put before councillors, council officer David Love wrote: 'The current Pollphail village will be demolished as a result of this approval, clearing the way for the bonded warehouse and eventual implementation of the masterplan. "Pollphail village has long been an eyesore with various attempts to redevelop the site having been abandoned. The proposal will secure the demolition of the site and clearance of the former village, resulting in an environmental and landscape benefit to the area." more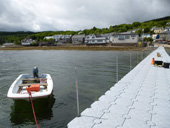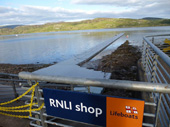 New Dinghy Pontoon

August 2015 - A new dinghy and tender pontoon welcomes visiting sailors to the village. At almost 100m long, the new pontoon, situated next to the RNLI building, allows access to the centre of the village with all its amenities and shops at all states of the tide.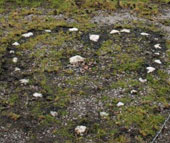 Tinkers Heart -
Monument Status?


March 3 2015 - Historic Scotland has launched a public consultation to help it decide if a travellers site by Loch Fyne should be given national monument status

Portavadie Water Adventure Launches
March 1 2015 - Tours around Portavadie and trips onto Loch Fyne to be offered

Kilfinan Community Forest plans to expand ... Intends to acquire more land to benefit community

We made a wooden table then ate a meal on it ... Kilfinan Community Forest trades in timber and teaches visitors sustainability, forest and woodworking skills [Guardian article Sept 4 2014]

Tighnabruaich Coastal Rowing Regatta held May 24-25th. More info on Kyles Coastal Rowing Club here .

Rare Phenomenon Over Tighnabruaich Quadruple rainbow photographed by Tighnabruaich resident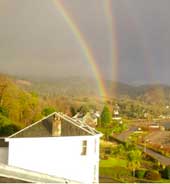 [more]
---
---
Have local news? Use our contact form to send it to us.
---
---